Zumaic Exoddus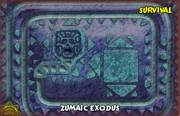 Zumaic Exodus is the 21st level pattern of Zuma Deluxe. It first appears on level 9-7 and reappears on level 12-7.It's one of the most hardest level to beat. The level itself is short and the ball speed is fast. It tests players ability to create combo, chain bonus, and gap bonus. Compared to other maps such as the spiral of doom and landing pad, the path is reversed. The path starts in the inner ring and ends in outer ring. As a result, players can't discard useless balls unless there's a gap being created. In addition, players can only target on balls in inner ring, especially when balls approaching to the skull, unless players can achieve gap bonus. Many experienced players lost all their frogs in this level.
Level 9-7
[
]
Level 9-7 is the last level of stage 9 as well as Popo Poyolli. After this, the secret Shrine of Zuma is unlocked.
Level 12-7
[
]
Level 12-7 is the penultimate level in Zuma Deluxe, preceeded by Space.

Strategy
[
]
Due to the fast and claustrophobic nature of this level. your best strategy is to close as many gaps as possible in the meantimes you can't break pause and backward balls to force the line down, be careful when building large combos as the line can accelerate to the point of hiding the balls you added, making it if not an automatic lose, a really hard situation to compensate.
Give priority to perpendicular angles. Because of the Frog's position, balls near the Skull will be hard to hit because of the long range and the gap you have to open to reach them, sometimes in a transversal angle that needs more accuracy to fill properly without adding unnecessary balls.